Đồ Chơi Số
Trải nghiệm tai nghe Huawei Freebuds Pro: Đeo thoải mái, chống ồn mạnh, âm đậm đà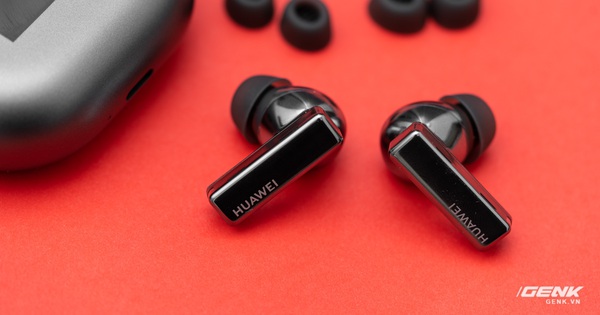 Is this the 'AirPods Pro for Android Smartphone World'?
Not the first name mentioned when it comes to audio, but Huawei in its recent launch has also shown its ability in this field by launching a series of pairs of headphones and speakers with Impressive feature list.
In which, the most prominent is the pair FreeBuds Pro, is the tiny True Wireless but has 30 hours of use, active noise cancellation, touch controls, wireless charging and much more. Do these features actually work? Along with that is an even more important question, how does this pair of headphones perform?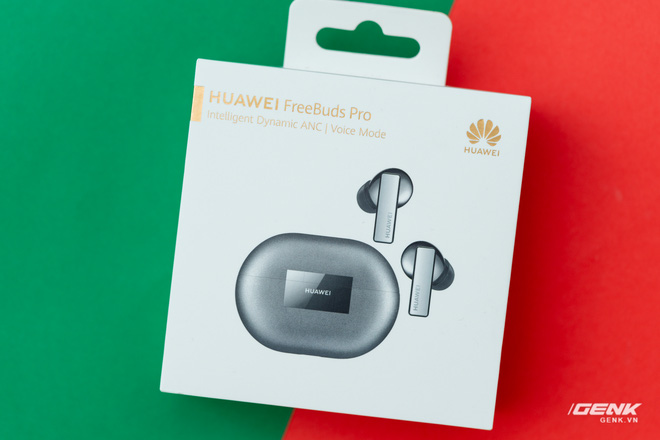 The pair of headphones is packed into a very small box that fits in the palm of your hand.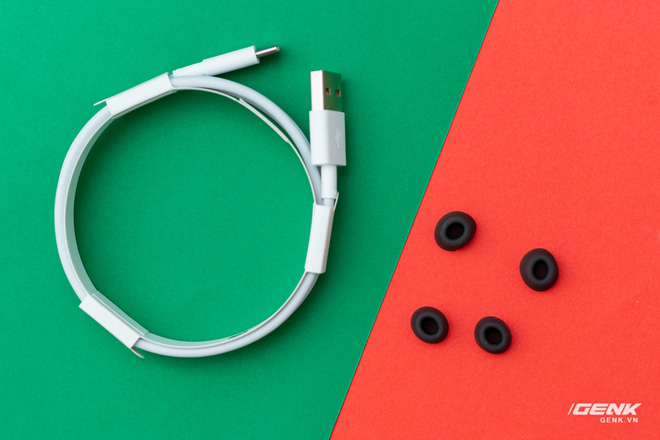 This box is small not because there is nothing inside, but the company has a reasonable arrangement of accessories to not take up much space. Included with the FreeBuds Pro we have a long USB Type-C charging cord and 2 rubber pads, plus a pair already pre-mounted on the ears.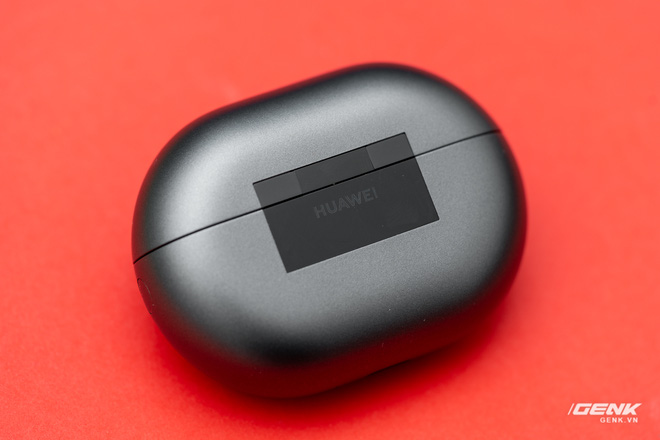 And this is the charging box of FreeBuds Pro, still with a rounded design but much neater than the box of FreeBuds 3 . pair, so that it will be easier to put in the pocket. This box is also finished with matte plastic instead of glossy plastic, following the design trend of the market. smartphone.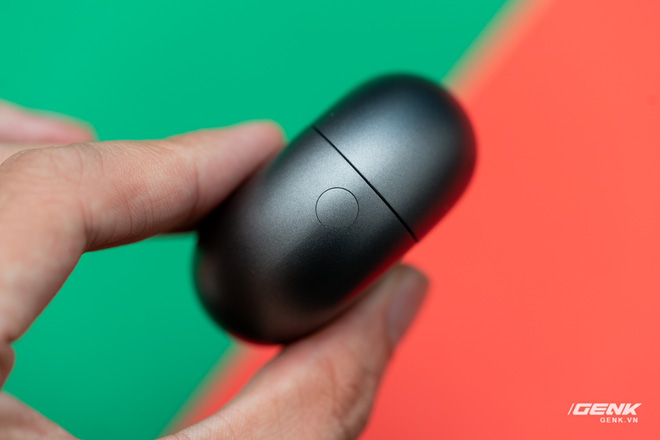 On the side is a button to switch FreeBuds Pro into connection mode.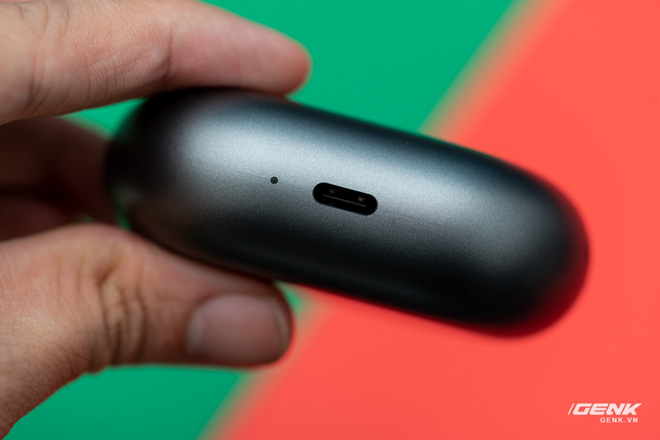 So small, these charging boxes give quite a strong usage time. When used independently, FreeBuds Pro gives 7 hours of continuous music playback, and combined with this charging case will increase to 30 hours. For comparison, the FreeBuds 3 pair only has a duration of 4 – 20 hours, although the size is not too different.
Not stopping there, like the True Wireless headsets from other major technology companies, the FreeBuds Pro's charging box also integrates both wireless charging and fast charging, both of which are useful in 'necessary' cases. '. If you are out on the street and can't find an outlet to charge your headphones, you can put the charging case on the back of the new generation smartphones with the power sharing feature to be able to continue listening for a while. again. And once we have found an outlet for wired charging, the charging speed is also very fast, helping to reduce the time we have to wait and wait, according to the company, only 10 minutes of charging has reached 30% of the battery.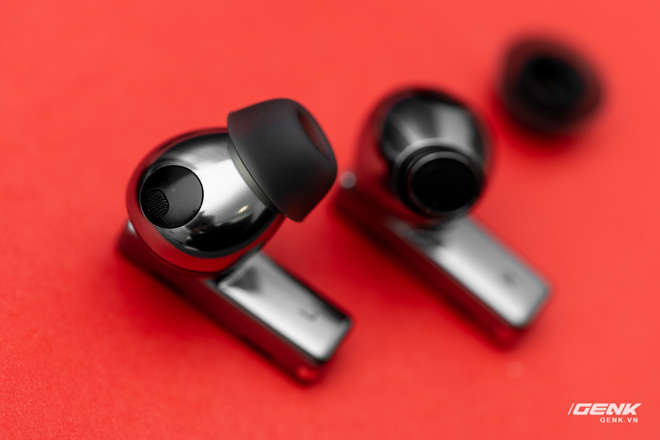 Unlike the charging box, the FreeBuds Pro is finished in glossy plastic, with the version we have today in Silver Gray, in addition to Porcelain White and Carbon Black. This color must be said to be quite special because there are few pairs of headphones on the market, but when combined with glossy plastic, it is easy to leave fingerprints, so users also need to wipe it more often to retains the 'glossy' look of the headset.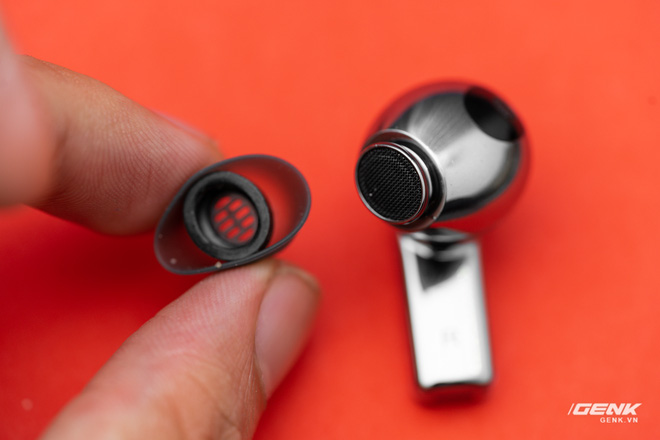 This pair of headphones uses a special rubber cushion, with a large diameter and cut in an oval shape, not a circle. Unlike the Apple AirPods Pro pair with the padding with a hard plastic mount, the FreeBuds Pro's cushion is still rubber, so if we find those with a large enough diameter, we can still replace it, but this process also becomes difficult. should be more difficult. Therefore, those who use this pair of headphones should keep the included buffers carefully, it is highly recommended not to lose them.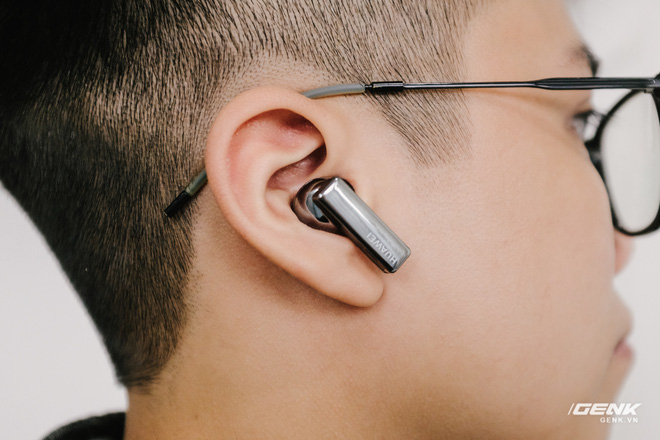 After choosing the right mattress, FreeBuds Pro feels quite comfortable to wear. The sound tube of the headset is made quite short, so it does not go deep into the user's ear canal, but due to the reasonable general design, this pair of headphones firmly clings to the user's ear without causing tension when used for a long time.
A nice feature of this pair of headphones that many people will ignore, but extremely useful in practical use is that the external microphone part of the headset (located on the 'tail') has a design that does not catch the wind. , avoiding the phenomenon of making noise when we go fast on the road (also known as microphonics).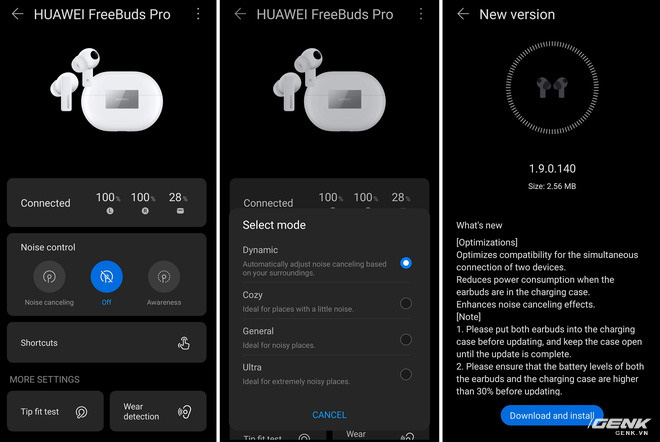 Huawei AI Life App
The list of features of FreeBuds Pro certainly does not end there. This pair of headphones has a smartphone support application called Huawei AI Life, which has all we need to do with the headset. The first 2 steps we need to do is to upgrade the headset's software (the upgrade process is quite fast, about 2-3 minutes), then check the tightness (fit) with different types of cushions.
When using the tightness test feature, the headset will create a short track, then continue to use the microphone inside to see if the music is leaked or not. If the sound does not leak out much, then we have chosen the right type of cushion, ensuring sound quality as well as active noise cancellation.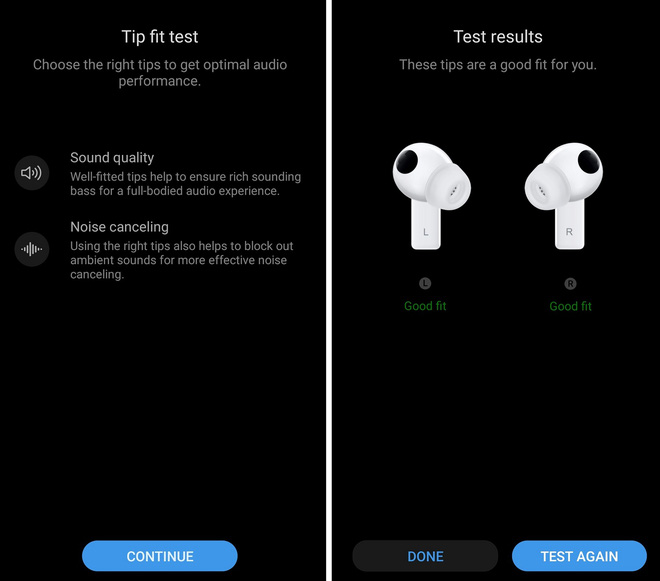 Referring to ANC, this is one of the most effective active noise canceling headphones available today. In the software, we find 4 noise-canceling modes including Dynamic (self-changing to suit the environment), Cozy (gentle, for low-noise spaces), General (regular) and finally Ultra – for the most virtual environments such as airplanes and trains. Even at the level of General FreeBuds Pro, it can block most voices and car horns on the street easily.
I often use headphones when working at home or in cafes with few people, then the Cozy mode will be more reasonable when blocking small sounds, while reducing unnecessary pressure on the ears (the Anyone who has used headphones with ANC will understand this.) Those who do not want to adjust much, just to prevent noise in Dynamic mode, FreeBuds Pro will automatically analyze the environment to adjust the intensity accordingly, we don't need to worry anymore.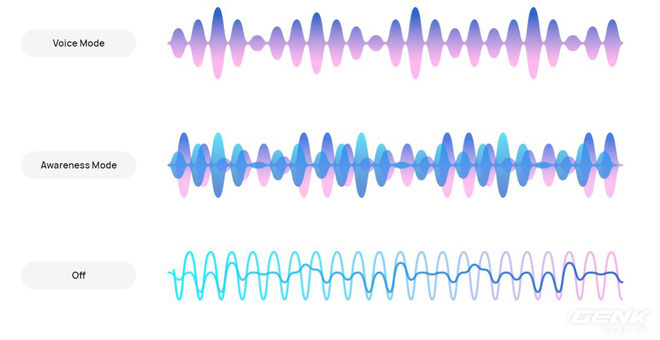 Various 'environment listening' features
Even the Awareness feature (I call it environmental listening) has different modes, including a normal mode that will let all outside sounds in, or Voice Mode when the headset only filters every voice and block other noises. I don't use this feature very often, because every time I need to talk to someone, I will take off the headset, FreeBuds Pro also has a sensor so that when I remove it, it will automatically stop the music!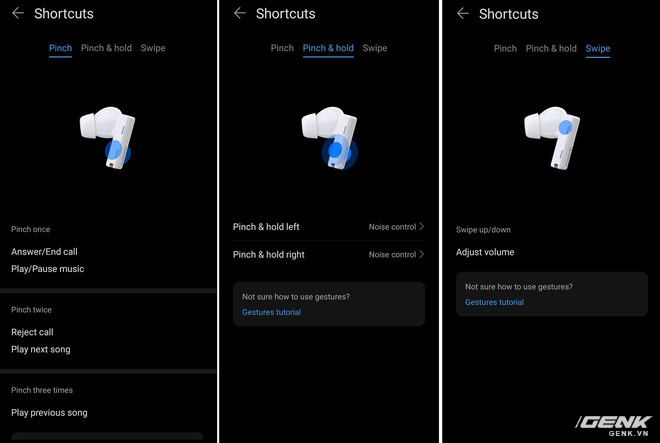 Instructions for using as well as adjusting the operations on the headset
Finally, the control button system. FreeBuds Pro is integrated with a touch panel on the 'tail' of the headset, with full operations such as pressing 1 time to receive a call, stop playing music, press 2 and 3 times to switch songs, long press to adjust the mode. noise canceling and swiping up and down to adjust the volume, each press makes a small 'split' sound like we are clicking a physical button, quite similar to Apple AirPods Pro. All of these operations can be customized using the Huawei AI Life app, but I didn't change anything because the default is already pretty 'logical'.
One feature missing in this application is the ability to adjust EQ (Equalizer), which we will need to do in music applications. And when we learn about sound quality right after, we will see that FreeBuds Pro will need a little help from EQ to get its best performance.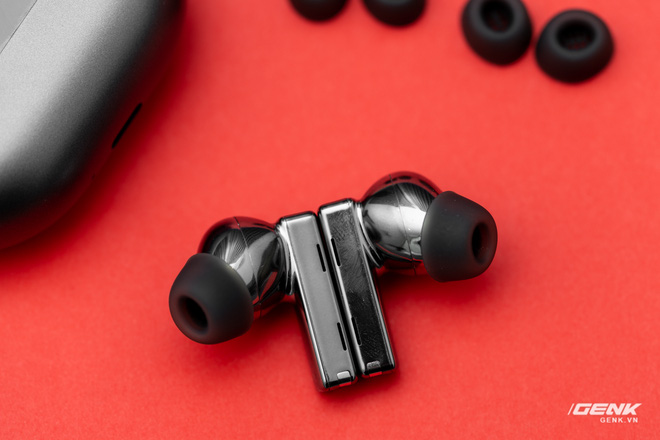 So how do these headphones sound? Huawei FreeBuds Pro right from the first listen has proved to be a pair of headphones geared towards the vibrant music genre, when pressing a lot on the bass range, the overall sound is dark and quite thick. In the post Just a taste of the Starkid group, the drum sounds stand out on the background, each time we don't need to listen carefully to recognize it clearly. FreeBuds Pro's bass has the advantage of being large, but clicking on the mid-bass part to create bounce, calculate impact instead of focusing on subwoofer (sub-bass) – if combined with a closed sound like this, It may cause tinnitus and ringing in the ears.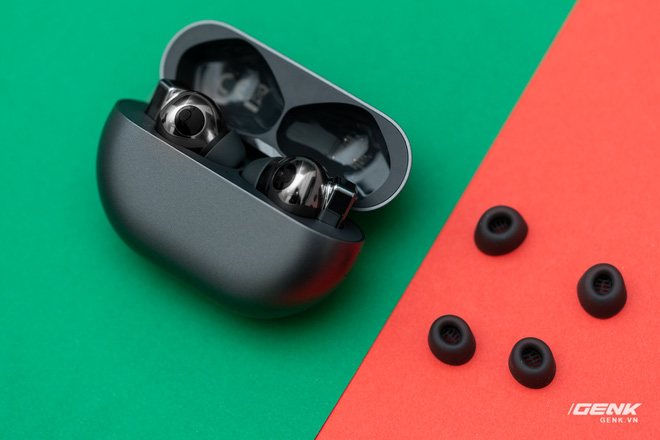 The mid-range of this pair of headphones, because standing next to the bass has a strong force, should be pushed back slightly, not standing right next to the listener. However, due to the guaranteed detail, it is still possible to 'cut' through the negative background, there is always the required clarity. Voices of Emily Loizeau and Andrew Bird in the song London Town with a comfortable, 'laid back' direction, listening in a short time does not create much impression but is in harmony with the general sound quality, so it feels easy to listen to.
The point where FreeBuds Pro needs more EQ to make the sound more comprehensive is in the high range. This sound range has quite enough volume, but the brightness is not high, so there is not much "playing ground" like the mid and high ranges. We can understand Huawei is aiming for a rich sound quality for those who listen to young music, but this high range is highlighted a bit more, the overall sound can be more balanced.
'Ty billion' technology in a small pair of headphones
Perhaps the criteria that make up a pair of headphones FreeBuds Pro This feature of Huawei is able to 'stuff' as many advanced technologies as possible into a compact design, and certainly with this criterion, the company has succeeded. Using this pair of headphones, we no longer feel 'envious' of other brands' products, not 'wish it had this' because any feature FreeBuds Pro can meet. Combined with that is a bold sound quality and presses on the bass range to increase the excitement of Pop, Dance songs…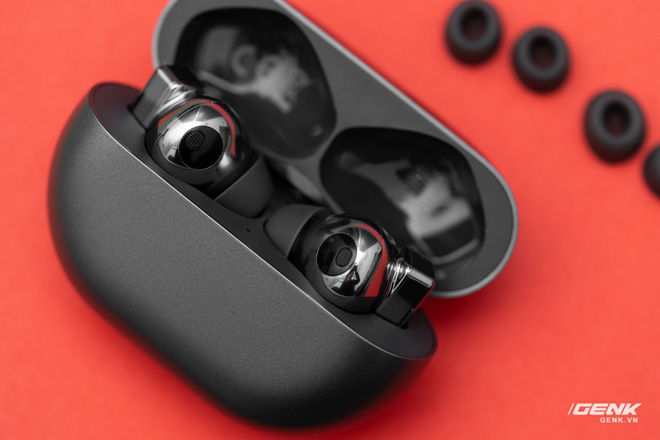 There are 2 things that I want Huawei to do better in the future, which is to increase the brightness in the high range so that the sound quality can be more balanced, easy to mix with slow tempo songs (as mentioned above). access, we were able to do it somewhat with EQ) and found a way to perfect the design to make the headset less dirty and fingerprints.
Advantages
– Neat design, good portability
– Charging case offers long life, with wireless charging and fast charging
– Light and comfortable to wear
– Fast and secure connection
– Highly effective noise cancellation, adjustable intensity
– Thick and bold sound quality, emphasizing the bass range to create excitement
Defect
– Finished with glossy plastic, needs to be cleaned regularly
– The high volume part is not much, it needs to be adjusted with EQ
---
Vừa rồi, bạn vừa mới đọc xong bài viết về
Trải nghiệm tai nghe Huawei Freebuds Pro: Đeo thoải mái, chống ồn mạnh, âm đậm đà
tại Tips Tech.
Hy vọng rằng những kiến thức trong bài viết
Trải nghiệm tai nghe Huawei Freebuds Pro: Đeo thoải mái, chống ồn mạnh, âm đậm đà
sẽ làm cho bạn để tâm hơn tới vấn đề
Trải nghiệm tai nghe Huawei Freebuds Pro: Đeo thoải mái, chống ồn mạnh, âm đậm đà
hiện nay.
Hãy cũng với Tip Techs khám phá thêm nhiều bài viết về
Trải nghiệm tai nghe Huawei Freebuds Pro: Đeo thoải mái, chống ồn mạnh, âm đậm đà
nhé.
Bài viết
Trải nghiệm tai nghe Huawei Freebuds Pro: Đeo thoải mái, chống ồn mạnh, âm đậm đà
đăng bởi vào ngày 2022-06-30 13:49:07. Cảm ơn bạn đã bỏ thời gian đọc bài tại Tips Tech
Nguồn: genk.vn